overview
About the film
Kuba is an alcoholic. One day, together with his girlfriend Krystyna, he visits a doctor who is supposed to help him overcome his addiction. Kuba waits alone for the therapy to begin, bothered only by phone calls from his friends. Restless, he decides to go out. He eventually lands in a bar where he drinks too much vodka in the company of an older saxophonist, who has been physically broken down by his alcoholism. In the morning he drinks another half a bottle of vodka. In that same instance he realizes he can never quit his devastating addiction.
Cast
Gustaw Holoubek
(Kuba)
,
Aleksandra Śląska
(Krystyna)
,
Teresa Szmigielówna
(dawna miłość Kuby)
,
Tadeusz Fijewski
(Władek, dawny saksofonista)
,
Stanisław Milski
(Rybicki, alkoholik w komisariacie)
,
Emil Karewicz
(Gienek, kelner w barze Pod Orłem)
,
Władysław Dewoyno
(Władek, monter)
,
Tadeusz Gwiazdowski
(dozorca)
,
Marian Jastrzębski
(krawiec, sąsiad Kuby)
,
Juliusz Grabowski
(kelner w barze Pod Orłem)
,
Roman Kłosowski
(Janek, młodszy monter)
,
Ignacy Machowski
(sierżant na posterunku)
,
Helena Makowska
(barmanka w barze Pod Orłem)
,
Igor Przegrodzki
(kolega Kuby)
,
Zygmunt Zintel
(Poldek, akordeonista w barze Pod Orłem)
,
Zdzisław Nowicki
(milicjant)
,
Roman Mikuła
(Świdracz)
,
Alina Zadrzyńska
(kobieta ze sznurami)
,
Barbara Wronowska
(kobieta z warzywami)
,
Jerzy Fornal
(mężczyzna)
,
Teresa Wierzbowska
(dziewczyna z kwiatami)
,
Włodzimierz Wilkosz
(partner dziewczyny z kwiatami)
,
Bogdan Śmigielski
(człowiek z mirtem)
,
Aleksander Olędzki
(dorożkarz)
hide tab


storyline
Through the window a camera films a clock in front of the jeweller's shop. Kuba stands at the window on the third floor and counts the strikes on the hour. It is eight. He wears his suit but is not going out. This suit is supposed to keep him on his toes. Somebody knocks at the door. Kuba is disturbed for a short while but he knows this is the usual hour when Krystyna comes. Cautiously he asks if it is her and lets her in.
Krystyna, a beautiful and trim woman, warmly greets Kuba. They start talking. A few days ago they decided to fire Kuba's cleaner. Some valuables had gone missing and Kuba tried to convince Krystyna that it was the cleaning lady who stole them. His hands tremble and he is still jittery. He asks Krystyna how it is going to be now. She explains that she will come to him after work and they will both go to the clinic where he will receive special pills to start his rehabilitation treatment. After that they will move out of town and start living together. Kuba listens to all this in awe. He is however terrified at the prospect of ten long hours on his own before she can come to escort him to the clinic. She begs him not to go out and not to follow any of his whims. She leaves for work.
Soon a tailor brings Kuba his repaired jacket. He also mentions he saw Kuba coming home completely drunk the other day. Kuba drops his gaze in embarrassment. He tells his neighbour about the therapy and about his plan to start anew. But the tailor is sceptical – one makes it, the other does not. Kuba apologizes to him for not having money to pay for his service. It turns out Krystyna paid him yesterday.
After the tailor leaves, Kuba tries to find something to occupy himself with. For a while he watches the street through the window. A watchman cleans the big clock and talks to a jeweller. A girl skips. A phone rings in Kuba's flat. It is his friend who also saw him drunk yesterday. Kuba tells him about the therapy – he believes that if he does not drink for a year, he will not have any more cravings, and others will eventually forget about his addiction. His friend receives the news with disbelief and mockery. But he wishes Kuba good luck.
Again Kuba tries to find something to do. He digs out an old framed picture from his junk. It's glass is broken and Kuba wants to replace it. The phone rings again. It is another friend who has found out that he wants to quit drinking – the information has already spread like wildfire. Kuba answers the questions and gets more and more impatient. When they finish talking Kuba tries to unplug the phone. He is not strong enough to do it. After a while the phone rings again. Kuba is terrified. He picks it up and immediately hangs it up. But the caller is really determined and keeps on calling back. Kuba cannot stand it. He puts on his coat and goes out despite Krystyna's request.
On the stairs he meets the cleaning lady. She comes to give him money for the valuables that have gone missing. She assures him she did not steal them. She borrowed money from her friends but has still come up short. Kuba cannot listen to her – he tells her to go and never come back.
In front of the building he meets the watchman cleaning the clock. He also got drunk yesterday and wants to tell Kuba all about it. He even offers him a drink at his brother-in-law's. With his willpower fading Kuba explains he has important business in the city and leaves. It starts raining. Rainwater collects in Kuba's hat, and eventual pours out all over his face. He fails to see two repairman and stumbles over their legs. One of them comments that Kuba is already drunk.
Kuba notices another friend in the street. He turns around so they do not bump into each other, but a woman with a pram blocks his way. So Kuba decides to make use of a shoe-shine boy's service. He stands with his back towards the street but his friend notices him anyway. He approaches Kuba and starts talking – obviously he knows Kuba is trying to quit drinking. He jokes around about their common past – parties at which Kuba used to lose control and used to pick fights. Kuba starts shouting for him to stop but he does not understand and leaves a little bit hurt. He mentions he will drop by in the evening so they can talk, and then steps away and opens his umbrella.
Kuba walks away from the shoe-shine boy and starts wandering aimlessly. Suddenly he hears people shouting. It turns out the bus hit a van. Those standing on the bus stairs fell on the street and injured themselves. Kuba sees a broken umbrella near a dead body under the wheels...
Kuba leaves. He really wants to stop drinking. He wants to leave the town and start a new life. I have hold out for a few more hours – he tells himself. He goes to a coffee house and orders coffee. A young waitress tries to talk to him. They talk about various posters hanging around the coffee shop. Some of them warn against drinking frequently. Kuba tells the waitress to get out. He sits with his back towards the counter. He listens to a singer rehearsing before the evening performance.
A woman enters the coffee shop. She smiles at Kuba, she recognises him. Kuba smiles back – it is his former girlfriend. They have not seen each other for seven years. For Kuba the conversation with this woman is very pleasant – he does not have to talk about his addiction. She is also very nice to him. She honestly admits she is not happy. She does not get on well with her alcoholic husband. Kuba says he probably promised many times to improve but did not keep his word. The woman nods but states that Kuba knows nothing about it because he has not experienced addiction himself.
Meeting Kuba has moved the woman – she goes back in time to moments when she was really happy. She confesses she loved him. Kuba is surprised and asks why she did not tell him so at the time. It is visible that this disappointment in love has had a tremendous impact on his life and may be connected to his ongoing addiction. At this point the conversation becomes too painful for Kuba. He shouts he does not want any memories and leaves. When walking along the street he accidentally nudges a man with his shoulder – it is one of the repairmen he met in the morning. Their second meeting with this "drunkard" throws them off balance. The younger of the two calls Kuba "a bastard", who does nothing but drink while he works a 15 hour day. He wants to hit Kuba but Kuba is faster and hits him first. In this moment a police patrol appears and takes Kuba and both repairmen to the police station. The duty officer who admits them is very hard on drunkards. He used to be a guerrilla fighter. He believed that after the war people would lead better lives. So dealing with drunkards every day is his life's drama. He wants to lock Kuba and repairmen up, but another policeman enters the police station with another drunkard, Rybicki, who is a regular guest there. The duty officer tells Rybicki to give him his belt and tie and takes him to his cell. In the cell Rybicki suffers from delirium. His screams are heard throughout the police station. Everyone is shocked. Kuba realizes Rybicki is what he will become...
The duty officer mellows and lets Kuba and the repairmen go. The three of them reconcile in front of the police station. Kuba leaves quickly. He is on the verge of nervous breakdown. He asks a boy playing in the street where the nearest pub is. He enters the pub and orders a glass of vodka, and then a second one and then another. He takes large gulps. He feels relieved.
A scrawny old man approaches him and admires Kuba's pace and the amount of vodka he has just drunk. He also feels like drinking but has no money. Kuba invites him to join him. The man starts telling his story. Kuba doesn't really pay attention but the man talks anyway. He used to be the best saxophonist in town. But he started to drink. He talks about sleepless night and about mornings that do not bring any hope. They drink together, downing big doses of vodka. There are more people coming into the pub as evening comes. Suppliers bring barrels of beer. Waiters bustle around the tables. Kuba orders another drink while the saxophonist keeps telling his story. His level of alcoholism is much more advanced than Kuba's. At one point he starts describing Kuba of the days to come. Kuba is afraid of listening to this. He hits the saxophonist and also a waiter who tried splitting them. Other waiters throw Kuba out. Someone takes his watch. While Kuba lies in the gutter, Kostek, a brother-in-law of the Kuba's house watchman, finds him and takes him home. Krystyna comes and tells Kuba to go to sleep. She suspected he would not hold out without alcohol for the few hours she left him. Before she leaves she promises to come in the morning and they will go to the clinic together. Kuba has lost all his hope. He does not believe he can live, work, and love. He is terrified by the sudden ring of the telephone. He finds a rope and commits suicide. (PŚ)
hide tab


comment
Wojciech Jerzy Has had to wait a long time to make his first full-length feature. During Stalinism he worked for the Educational Film Studio where he made educational titles as well as advertisements. Only recently, with the coming thaw, has he been able to join Jerzy Zarzycki's "Syrena" team. There he was offered the chance to make "Land" based on Danuta Ścibor-Rylska's screenplay. This project was approved by the Screenplay Committee and Has even got so far as taking screen tests but eventually Zarzycki took over production of "Land". Has left the "Syrena" Team in protest. Soon Ludwik Starski offered Has the chance to adapt "Noose".
In his very first interviews about this adaptation of Hłasko's short-story, Has emphasized that he did not want to make a study of alcohol dependency. He used alcoholism as an excuse to show the real tragedy of a slow decline of a man who is left with next to no hope, which he eventually loses anyway. The main character of "Noose" is lonely - he feels alienated from his surroundings, even though he is not left alone. However, their attempts to help him are not as genuine as they actually want to witness up close someone who is in a worse situation than them. Kuba senses that and he does not agree with it. It deepens his feeling of alienation.
Alcoholism is the root of Kuba's alienation. It is the inevitable outcome. From the scene in the coffee shop we know Kuba suffered from heartbreak. He enjoyed drinking but it was after he got heartbroken that it became his way to survive each day. Now Kuba does not see any sense in living if that is what life has become. Even if he tried to change his life – he is not able to do it. Real life, with its joy, every day work, rest, and conversations with loved ones happens somewhere else and seems out of Kuba's reach. The only spark of hope for Kuba is Krystyna, who wants to take care of him and move out of the city with him. But at one point Kuba realizes that even this simple change is beyond his reach.
Has had an precise notion of a film set harmonizing with the state of mind of the film's main character. It was made by Roman Wołyniec. The city Kuba walks around expresses Kuba's failure. It is raining all the time, courtyards are dirty and dark, people walk quickly and furtively. They do not try to interact, and isolate themselves wholly from one another.
Critics at the time interpreted this adaptation as an incompetent move away from realism, one which erased the tragic import of the work. The "Noose" was at first was treated as an immediate comment on the growing problem of alcoholism in Poland in the 1950s. If this were the case, following the reasoning of the contemporary critics, had the film reflected reality, the movie would have had a stronger influence. Only Konrad Eberhard noticed that Has simply created a different poetic reality which does not just copy life. (PŚ)
hide tab


press review
"Film Hłaski i Hasa »Pętla« pojawia się w samą porę. Chyba po raz pierwszy film fabularny odpowiedział na »zamówienie społeczne« tak błyskawicznie, a nawet je uprzedził. Zanim jeszcze zaczną w Polsce skutecznie działać wszelkie ustawy antyalkoholowe, zanim rozwinie się jakaś sensowna akcja społeczna, może »Pętla« skłoni niejednego widza do refleksji, może… […] Widz otrzymał polską wersję znakomitego filmu amerykańskiego »Stracony weekend«, który przed dziesięciu laty zdążyła u nas obejrzeć zaledwie garstka widzów […]. Kto oglądał »Stracony weekend«, temu bardzo trudno oprzeć się porównaniu go z »Pętlą« – tyle tu wspólnych momentów w koncepcji, dramaturgii, sytuacjach, nawet w zdjęciach. Tylko nasz film nie ma happy endu. Spróbujmy jednak nie porównywać, zwłaszcza, że taka przymiarka wypada dla naszego filmu bardzo niekorzystnie. […] Gdzieś w połowie filmu akcja […] ulega zahamowaniu, autorzy już nie dbają o »dzianie się«, lecz prawie wyłącznie stawiają na atmosferę i psychologizowanie. Widocznie wychodzą z założenia, że skoro los Kuby po scenie w komisariacie i po pierwszej stopce wódki jest już właściwie przesądzony, nie pozostaje nic innego, jak tylko podbudować nastrój i chandrę bohatera tasiemcowymi dialogami i monologami pijackimi. Ale okazuje się, że nasi pijacy, nawet widziani oczami Hłaski, nie mają zbyt wiele ciekawego do powiedzenia, ględzą, są żałośni - i tyle. Więc już tylko czekamy, żeby Kuba się powiesił. Autorzy nie chcą widocznie przerywać tego oczekiwania żadnym nowym konfliktem, bo nawet gdy pojawia się dziewczyna Kuby, to dość obojętnie przygotowuje mu kawę i zaraz znów zostawia go samego. Zaczynamy mieć wątpliwości, czy go jeszcze kocha i czy jego los ją obchodzi. Widocznie chodzi tu o to, żeby pokazać, jak bardzo samotny jest Kuba, i przekonać nas, że naprawdę nie ma dlań ratunku. Więc jeszcze jeden telefon z miasta dobija Kubę, po czym bohater wygłasza pożegnalny monolog. Tu »psychologizowanie« doprowadzono do absurdu. Jest naiwne, umowne i niefilmowe. […] Kubę gra Gustaw Holoubek. Jest to niewątpliwie utalentowany aktor, ale jako Kuba został nazbyt upozowany, jest pijakiem pomnikowym, nawet wówczas, gdy leży w rynsztoku. Gra bardzo »programowo«, nie wdając się w detale i niuanse uczuciowych reakcji swego bohatera. Nie wiem, czy to z winy charakteryzacji czy oświetlenia Aleksandra Śląska wyglądała jako partnerka Kuby wyjątkowo brzydko. W pijackich monologach popisują się Fijewski i Milski".
Jan Łęczyca, "Film", no 5, 2.02.1958.
hide tab


posters and stills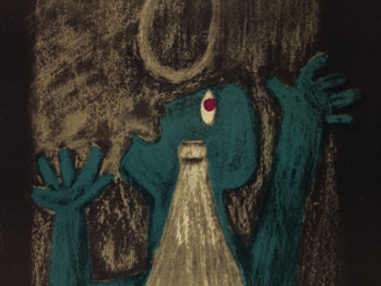 Graphic design: Józef Mroszczak, colour, graficzny, 82 x 58
hide tab