The Deluge today: time to go back to cinemas


There is no doubt about it: Jerzy Hoffman's The Deluge deserves a special place in the history of Polish cinema. After all, over 27 million viewers can't be wrong: such an audience means that Hoffman's film ranks third on the list of the biggest Polish box-office hits of all time. The only films with bigger audiences were Knights of the Teutonic Order and In Desert and Wilderness – both being adaptations of Henryk Sienkiewicz's prose, just like The Deluge.
It is worth mentioning that The Deluge was reportedly the most expensive film in the history of Polish film-making. Its uniqueness was indicated not only by a 105 million zloty budget, but also by the fact that it was the single production of the company PRF "Zespoły Filmowe". The making of the film was the subject of a nation-wide discussion, comparable in fervour to the 1930s US press obsession surrounding who might play Scarlett O'Hara in coming adaptation of Gone with the Wind. Eventually, the main roles in Deluge were given to Daniel Olbrychski and Małgorzata Braunek – at first, many audiences were distrustful of this casting descision, but over time they fell in love with actors and the roles they play. For Braunek, who after Hunting Flies became the personification of a modern, powerful and conquering woman, her turn in The Deluge became the role of her life. Even more so, it was a respected costume drama, and her performance in this film ultimately contributed to widening her horizons as an actress. For Olbrychski, who was becoming the leading man of Polish heroic films, Deluge turned out to be the threshold of his maturity – it was on set of this film that his personality as an actor was finally formed.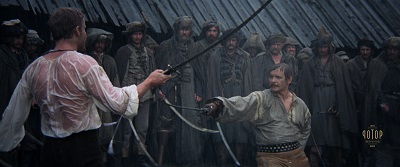 Kadr z filmu ,,Potop Redivivus''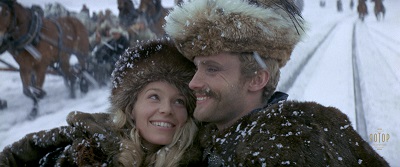 Kadr z filmu ,,Potop Redivivus''



Kadr z filmu ,,Potop Redivivus''
It's no lie to say that adapting Sienkiewicz's prose for the screening presented numerous challenges for Jerzy Hoffman. Admittedly, the author of Quo Vadis has almost such a status in Polish cinema as Shakespeare has in the Anglo-Saxon world, but even in the 1970s nothing was set in stone. Above all, because, as Jerzy Hoffman later recalled in an interview for the weekly magazine "Fakty", "it turned out that no more than three million Poles read Sienkiewicz's Trilogy after the war". Therefore, he admitted, "I tried to make a film for those who had read and those who had never encountered The Deluge. Four generations of Polish people have been raised on this book, but right now it is not so widely-read".
But even if these remarks failed to reflect the truth (in different time periods, each part of the Trilogy was on the list of required reading for high school students), Henryk Sienkiewicz remained an inconvenient figure for the communist regime, both as a Nobel Prize winner and a "screenwriter". In particular the historic/patriotic tradition developed through his works that was ideologically contrary to that of the communist authorities. Although incorporated into recent celebrations of the Millennium of the Polish State (together with Aleksander Ford's adaptation of Knights of the Teutonic Order), it was revised to a great extent. As a result, Ford's film brought the times of Wladyslaw II Jagiello and the adventures of Zbyszko of Bogdaniec closer to the audience, but, at the same time, referred to the Polish victory (with the Red Army as an ally – just as Jagiello had Lithuanians, Smolensk and Czech regiments by his side) over Nazi Germany in Berlin.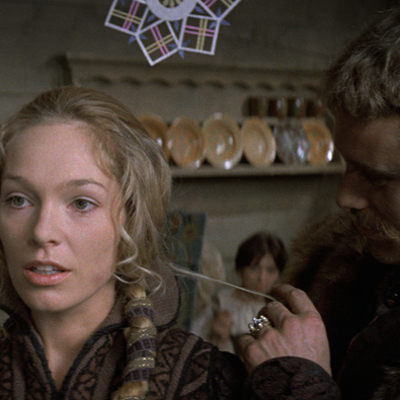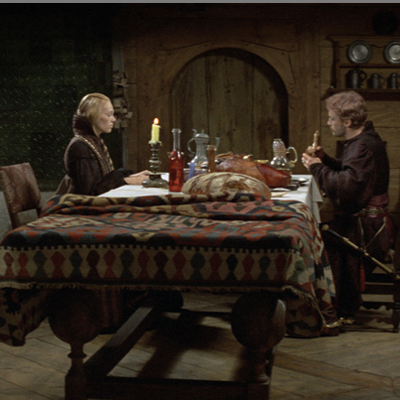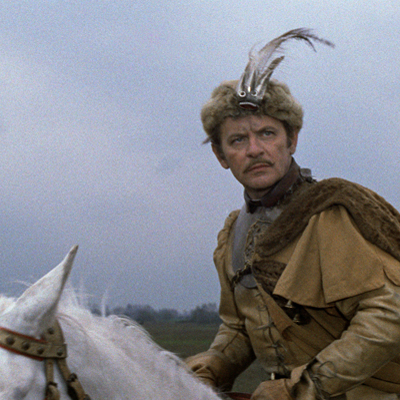 Hoffman managed to avoid the larger cultural baggage tied to such a project. This is in part because Sweden pursued (and still pursues) a policy of neutrality and, second to this was because Sienkiewicz painted a bitter picture of 17th century Poland. This bitterness, which became a key motif in Hoffman's picture, which in turn gave a blind eye to the religious themes present in the descriptions of the Siege of Jasna Góra. Just in case, Krzysztof Teodor Toeplitz calmed his readership in the month periodical "Miesięcznik Literacki": "The Polish audience has perceived The Deluge as being a picture which compensates in some way for the need for national success. They have seen it because they wanted to, even though it actually is not a film about success, but about horrible conflict and, as it turned out over one hundred years later, continued bloodshed. It is a genuine film, wiser than it seems. It is also a more genuine film than many others before it. Colonel Wolodyjowski, among others, regards its' depiction of the Polish society of the 17th century as demonstrating that "The film followed Sienkiewicz's prose not only in its vividness and boisterousness, but also in its philosophical approach to history".
Despite these restrictions and adversities, primary shooting on The Deluge was finally concluded. What is more, the movie was recognized in Hollywood and nominated for the Academy Award for Best Foreign Language Film. It was not the first nomination for a Polish film (this honour had earlier fallen to Roman Polanski's Knife in the Water and Jerzy Kawalerowicz's Pharaoh), but it soon became clear that Hoffman's work opened a lucky series for the Polish film industry: the year after that Andrzej Wajda's The Promised Land was a candidate for an Oscar, just as Jerzy Antczak's Nights and Days two years later. Polish authorities started to believe that our film industry had great capacities, so they established themselves as a key player in informing powerful project of its further development – never introduced, of course, due to the lack of funds.
And The Deluge? In 1984, on the 10th anniversary of its premiere, it came out again for a moment and, as an adaptation of a required school reading, has actually never been off screen. With time, it became a constant part of the television repertoire. Along with the coming of the VHS era, it gained a new distribution channel. The film still maintains its extraordinary status – in a poll organized by the weekly magazine "Polityka" for the end of the 20thcentury, it was recognized as one of five most important Polish films.
There is no denying that the political transformation of 1989 was not a lucky period for the Polish film - for the chaos alone, which prevailed in the distribution. The Deluge became its prey twice – when there was no place for Polish films in cinemas, whose number were rapidly diminishing, and when different distributors, legally or not, distributed Hoffman's film on VHS cassettes. These were not copies of the film negative, nor were they copied from the sample version, but from release prints, which were damaged to different extents, or from a television version cut to the common 4:3 Academy aspect ratio. At least two generations of viewers have yet to see The Deluge in its' full glory at the cinema.
The film was digitally remastered also for them. But even if it has an image and sound quality unlike anything anyone has ever seen before, as a forty-year-old film can it still captivate audiences? Jerzy Hoffman, in spite of being 82, has not lost his risk-taking spirit. Once again he went the whole hog. Together with Marcin Kot Bastkowski, the editor of With Fire and Sword and Battle of Warsaw 1920, he shortened the five-hour-long film to three hours, adapting the film to the expectations of contemporary viewers, who are used to a different rhythm of narration, a faster pace and greater dynamism.
See you in cinemas!