overview
About the film
A fact-based story about Jerzy Iwanow, a Polish agent, who became famous for his reckless sabotages during the II World War. Iwanow, who has been living in Greece for many years, wants to join the Karpacka Brigade. Because of a lack of trust the Pole is recruited by the British Security Service. Iwanow becomes their agent and begins a series of dangerous and reckless spying activities...
Time: Second World War
Place: Greece
Rights: National Film Archive
Sound: mono
Language: pl
Cast
Karol Strasburger
(Jerzy Szajnowicz-Iwanow)
,
Adrianna Andreewa
(Kondopulos' wife)
,
Barbara Bargiełowska
(Marianna Jantos, Fortis' wife)
,
Aleksander Iwaniec
(Stratos)
,
Kirił Janew
(Maliopulos)
,
Stojczo Mazgałow
(Kondopulos)
,
Nikola Naczkow
(Apostolidas, the Iwanow landlord)
,
Helena Norowicz
(the courier carrying the money for Iwanow)
,
Józef Para
(doctor Fortis)
,
Bogumił Simeonow
(Dimitros Fortis, Marianna's husband)
,
Monika Sołubianka
(Gabriela Coronis)
,
Zdzisław Tobiasz
(comandor Valdi, commandant of Iwanow)
,
Tadeusz Białoszczyński
(metropolitan Damaskinos)
,
Jerzy Bielenia
(Savopulos)
,
Witold Dębicki
(radiotelegraphist in the British staff)
,
Piotr Fronczewski
(prisoner Beliński)
,
Wiktor Grotowicz
(major of the Karpacka Brigade)
,
Tadeusz Kosudarski
(SS-man called "Byk")
,
Kosta Karageorgijew
(Bandos, Iwanow's friend from school)
,
Józef Maliszewski
(priest Daleze)
,
Antonina Mermerowa
(Eli, Marianna's cousin)
,
Stanisław Michalik
(SS-man in charge of Iwanow's execution)
,
Jerzy Moes
(radiotelegraphist in the British staff)
,
Zofia Petri
(Margerita Christophilu)
,
Asparuk Sariew
(seargant)
,
Georgi Paplomatis
(student)
,
Stanisław Tylczyński
(father Natazas)
,
Leonard Andrzejewski
(officer in the British staff)
,
Teodor Gendera
(officer in the British staff)
,
Juliusz Lubicz-Lisowski
(a Pole in the Karpacka Brigade camp)
,
Sylwester Przedwojewski
(officer in the British staff)
,
Jerzy Smyk
(prisoner)
,
Tadeusz Somogi
(a Pole in the Karpacka Brigade camp)
,
Zdzisław Szymański
(prison guard)
,
Janusz Bylczyński
(Dubbing cast - Dimitros Fortis, Marianna's husband)
,
Stefan Friedmann
(Dubbing cast - Bandos, Iwanow's friend from school)
,
Piotr Fronczewski
(Dubbing cast - "Charlie", British agent in the monastery)
,
Jerzy Tkaczyk
(Dubbing cast - 2 roles: seargant, prison guard)
,
Tomasz Zaliwski
(Dubbing cast - sailor)
hide tab


storyline
It is spring 1941. On the central East the Karpacka Brigade forms. The staff is joined by Jerzy Iwanow, a Pole who has been living in Greece for many years. He wants to go to the army, but the leadership does not trust him: his passport is not valid, his biography isn't clear and he cannot explain how he managed to get into the Brigade. He is to remain in the additional camp for now. The Brigade sets out to Tobruk while Iwanow receives an offer from the British Security Service. The English know that he speaks a few languages (including fluent Greek), is very fit – and what is most important – is willing to fight. They offer him a spy job in occupied Greece. They already have one agent in Athens and want Iwanow to work with him.
Iwanow gets to Greece on board of an English submarine. He stays at his at the home of his old friend, Marianna. Her husband helps him make further contacts. Iwanow cannot contact his family living in Greece – that would increase the danger of him getting caught.
The agent he is supposed to work with introduces him to a talented coder who will be responsible for his radio station. Iwanow sends England his first telegrams concerning the arrangement of the anti-aircraft artillery in Athens and the date of the German convoy. Iwanow perfectly develops his spy network, gains more information than is needed. Soon detector vans appear below his hiding place. Iwanow runs away and manages to set one truck on fire on his way.
One day he sees Bandos, an old friend from his Greek school, on the street. Since then Iwanow's collaborators began to get caught. People began to believe that there is a traitor inside of the organization. However the main character thinks that it is Bandos who is snitching to the Germans. He decides to check that and gets arrested while doing so – his friend from school is indeed working for the Germans. The Gestapo tortures Iwanow but does not manage to break him. He manages to run away. He jumps out of the German car and tricks the people chasing him. However he doesn't have a chance, because warrants of arrest with his picture are everywhere. Iwanow does not want to give up. He find a hiding place on a barque of ex-officers from the Greek navy. They give him the contact to a group of left-wing workers who are employed in a factory which makes airplane parts. Together they organize a sabotage on communication routes. Iwanow also comes up with an idea how to destroy German ships: as a great swimmer he can swim up to each ship and attach a bomb or mine to it. Soon the Germans loose some very important units.
Soon Iwanow's achievements become famous in all of Greece. The Germans demand a search for him. They find the track of his sabotage group and arrests begin. The situation is increasingly nervous, but Iwanow does not resign from further actions. He destroys the transport of war gear and sets supplies of fuel on fire. However he does not have the means to continue such actions. He also knows that the Germans might arrest him any day. As advised by his collaborators, he decides to run away to Turkey. When everything is already planned, Iwanow gets arrested. His whole network is also caught. The Germans sentence them all to death.
hide tab


comment
Behind the scenes. First, a few facts. The main character, Jerzy Szajnowicz-Iwanow is a real person. He was born in Warsaw. His mother was a Pole and his father was Russian. When his mother got divorced and re-married, Szajnowicz-Iwanow moved to Greece. He passed his high school finals there. In the 30s he studied in Belgium and France and received an engineer diploma. He returned to Poland before the war and received Polish citizenship. He became active in the sports movement of AZS. He received the academic world championship in swimming in 1938. When the war broke out he tried to get into the Independent Brigade of Karpaty Shooters, but that was impossible due to his unclear origin. He therefore joined the Secret Service and was moved to Greece as an agent. He worked there from October 1941 until January 1943. He was the first 'human-frog' – with a mine on his chest he dived and swam up to Hitler's ships and blew them up. His achievements became so famous that the Germans announced a 3 MLN drachm award for his head. In January 1943 Szajnowicz-Iwanow was caught and shot. After the war he was called a national hero in Greece. He was unknown in Poland at the beginning. Stanisław Strumph-Wojtkiewicz was the first to become interested in him. In 1944 – he said – when he was a PAT correspondent in London he received a telegram about Jurek from Athens. I immediately asked for more information about the "Agent". In 1957 I went to Saloniki where I stayed for six weeks at Ms Leonarda Szajnowicz's and Jerzy's brothers' home. I collected two full baskets of documents. Both from his (…) sports successes and those from during the war. I reached many people who gave me information about the heroic Pole. That's how the book was written.
Kora, St. Strumph-Wojtkiewicz, autor "Agenta nr 1", "Przegląd Sportowy", 1972, nr 31
COLUMNBREAKPOINT
By 1970 the biography had six editions. The author of the script, an adaptation of the book, was Ścibor-Rylski, and his subject consultant was Strumph-Wojtkiewicz himself, who had the biggest influence on the creation of the figure of Jerzy Iwanow's mother. The whole story – as he said – seemed very good to him. Ścibor-Rylski and the director also went to visit Szajnowicz-Iwanow's mother who was still living in Saloniki. They became friends. They were astonished by this woman's attitude. She never wanted to learn Greek, she only spoke Polish and had close relationships with people in Poland. She lived with two sons, Jerzy's stepbrothers, who also spoke fluent Polish. Their home – as director Zbigniew Kuźmiński added – was a true Polish bastion (…). Lots of Polish souvenirs, including many connected to Jerzy.
kt, Film o Jerzym Iwanowie-Szajnowiczu, "Głos Pracy", 1971, nr 91
The scriptwriter and director had a dilemma: since they had such an interesting character, should they use their imagination and go for an action film or rather make a story based on facts and the expectations of the Szajnowicz-Iwanow family. In the end they chose something in between. They made sure that the 'Agent Nr 1' had a good tempo and interesting, large war scenes. They can also not be accused of changing any facts. Despite this the film become something like a fragment of someone's biography which tells the sequence of events but does not go into its causes, effects, the psychological portrait of the main character, but only his superficial image. Although the critics, which often happens in such cases, were not satisfied, the public crowded the cinemas. 'Agent Nr 1' was one of the biggest hits in the Polish cinema in 1972.
hide tab


press review
The director Zbigniew Kuźmiński and the scriptwriter Aleksander Ścibor-Rylski made sure to stick to the facts, the time and place of the action, the chronology of events, the second plan characters and the background. Also the choice of the convention seemed to be obvious – the subject itself imposed it. After all, how can you tell a spy story if not in an action movie? Of course 'Agent Nr 1' is a fictional and untrue story from beginning to end. It is born out of the climate of a once popular song »How pretty it is during the war«. Everything is in place here. The main character – young, friendly and determined. His collaborators in the spy network – loyal, committed and ready for sacrifices. The girl – as she should be, the Germans – sad, stupid, incapacitated. When watching Kuźmiński's film one must be in shock. What kind of factors influence the author's artistic conscious if he decides to go for such glaring simplifications? How far away from the knowledge of historical facts must one's artistic work be to fit into the category of social need? The characters in Kuźmiński's film are divided into the good and the bad. And the events? One of the most reckless actions of Iwanow – blowing up German battleships in Saloniki – looks like this in the 'Agent': the main character goes into the water from a deserted shore, swims up to the right distance and goes under water. He attached a mine to the bottom of a battleship and swims again. In the opposite direction. Once he is in a safe distance, the battleship is blown up. This means that the Germans has just lost one unit. (…) Easy? (…) The image of the war (…) does not go any deeper than the sphere of elementary experiences and most obvious truths. If not to say – banal.
Jerzy Trunkwalter, Klossopodobny, "Dookoła świata", 1972, nr 13
Let's say this straight out: this is a correctly realized spy-action film. It's good that it was made, however too bad that although it was dedicated to an outstanding figure, it was not outstanding itself. When we look at Jerzy Szajnowicz-Iwanow as we know him from the well-documented book by Strumph-Wojtkiewicz, what is most visible is an intensive, lofty through its youthfulness, Polish patriotism and further more exceptional intelligence and courage. Jerzy's mother's influence on him was enormous and most likely the greatest of all. In the film the character shines with courage. This is in accordance with the rules of this type of film. Kuźmiński made sure we received a lot of pyrotechnic effects (…) and paid less attention to what was more important and interesting: preparing these effects, collecting information, organizing actions by Agent nr 1. The action, capers, surprises, pageantry was what the director was most focused on and – I must admit – this was a success. However there was clearly not enough time to deepen the characteristics of the figure. When comparing Jerzy Iwanow's image with his screen figure we must admit that choosing Karol Strasburger for this role was accurate. The hero's mother, Ms Leonarda Lambranidis admitted this also and came to Warsaw for the premiere of the film.
Stanisław Grzelecki, ...z matki Polki, "Życie Warszawy", 1972, nr 50
We must right away say that the film showing Jerzy Szajnowicz-Iwanow's biography during the war does not disappoint in any way. It is not a superficial monument. It was done with a large solidity when it comes to reality, scenery, facts, but also with a huge passion, which gave the evens an additional dramatic and poetic dimension (…). At the same time Zbigniew Kuźmiński's film is a great action film which keeps the viewer – apart from the first few minutes – in a constant tension. Also the actor who played the main role deserves an applause – Karol Strasburger. He was up to the role. He gave it many warm and real features. Jerzy Szajnowicz-Iwanow, played by Strasburger, is liked. He is also admired. Especially when we remember the races with death during the gleaming fuel on the German airport or the scene when the barques swimming to Africa are destroyed.
Zbigniew Dolecki, Bohater spod błękitnego nieba, "Wrocławski Tygodnik Katolików", 1972, nr 12
'Agent Nr 1' is one of our best action films. Szajnowicz is greatly played by Karol Strasburger. (…) The action has a good tempo, the main character's actions are effectively shown and over-done, which is good for the audience (the German ships on fire, under which Szajnowicz swims with mines, the gleaming German airport). The main character is also artfully shown: in the constant moments of danger (always more 'human' than the moments of success) or when he gets away from the hands of the enemy. His death during the last getaway looks very pathetic, but I suppose that was required by the film genre. Was Szajnowski's life good material for a more ambitious film? Certainly. However then the adventure and its sensual attractiveness would have been smaller. Kuźmiński chose another path. And he made his best film.
Aleksander Jackiewicz, Szajnowicz, "Życie Literackie", 1972, nr 18
Ms Szajnowicz-Iwanow, 2 voto Lambranidis, found in Zbigniew Kuźmiński's film, which showed the heroic actions and tragic death of her son, a lot of truth. That is what she said to the makers of the film and to the journalists. When a reviewer hears this, he feels helpless, or at least intimidated, because this applause (in a sense of moral remedy) weighs more than the opinions of all of the critics. However it is impossible to treat a mother's emotions as an objective criteria. A person watching his own life's drama on screen is like a veteran who sees the events of undergone battles. The images from his mind need only rough symbols to revive. What he sees is unavailable for other viewers – the reality which must be created anew if it is to show the truth to all. Zbigniew Kuźmiński and Aleksander Ścibor-Rylski definitely wanted to honour the memory of Jerzy Szajnowicz-Iwanow – a heroic and colourful figure, a Polish patriot who died for Greece while working for the Secret Service of an ally. (…) However the complicated circumstances of the war epic in 'Agent Nr 1' require – in order to make is understandable for our tradition – the overcoming of exoticism. In other words we must believe in Szajnowicz because he is too similar to a character from an angry novel. However the makers of the film, fascinated by the adventurous side of the subject, did not bring us close to the person, but quite the contrary, put him in the register of stereotypical figures of action literature. This is not a case of the credibility of facts. It is a question of the language used to show these facts.
Jan Józef Szczepański, Agent nr 1, "Tygodnik Powszechny", 1972, nr 16
hide tab


did you know?
The official premier of the film was on 26 February 1972 in the Wisła cinema in Warsaw.

Jerzy Szajnowicz-Iwanow's mother, Leonarda Lambranidis (surname from her second husband) and his two stepbrothers Aleksander and Antoni Lambranidis took part in the press screening of the film.

Soldiers from the Army Unit of Internal Defence in Kaszuby were extras in the film.

The film was made by the Bałtyk coast (scenes in the Karpacka Brigade camp), in Athens (the scenes of the escape from the Gestapo), in Warna, Bałczik, Kawarnia, Mrzeżyno Gryfickie (scenes on the Libya desert).
hide tab


posters and stills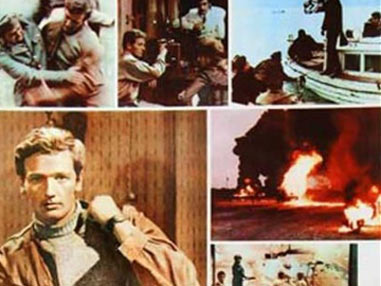 Graphic design: Bogdan Żochowski, colour, fotograficzny, 84,9 x 56,3 cm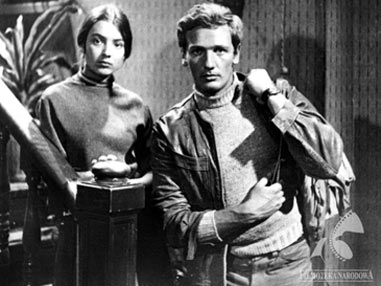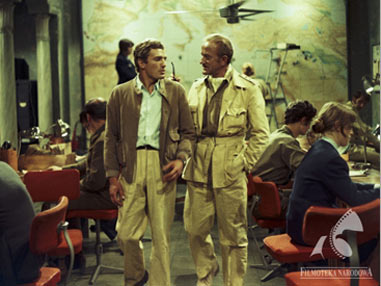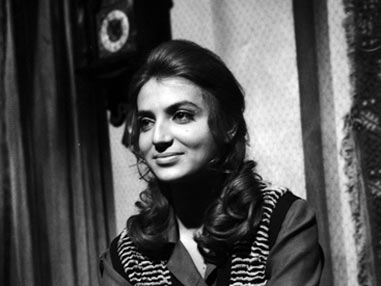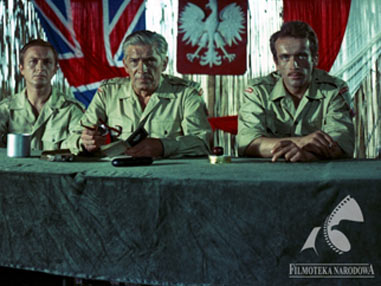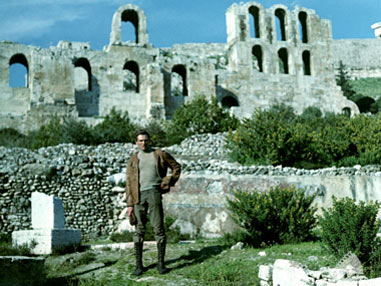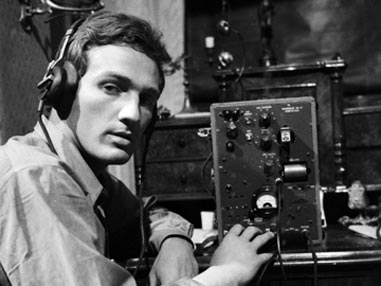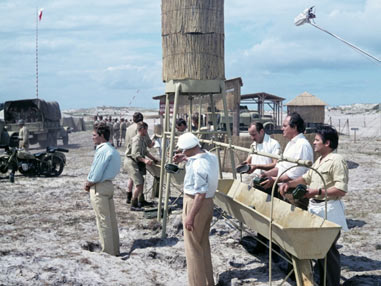 Author: Jerzy Troszczyński
hide tab